We're thrilled to spotlight Banana Llama, a brand owned by the Scottish artist - Andi. The bananallama.co.uk exemplifies minimal design and effective use of Easy Content Builder's features.
Meet Andi: The UX/UI Designer by day, freelance artist by night.
Andi has a strong passion for illustration & creativity. She provides unique hand-drawn pieces of Wall Art Prints, custom Portraits, or Birthday Cards.
She used the Posstack Easy Content Builder app to create her Shopify store at bananallama.co.uk, that's built on top of the Dawn theme. The site's simple yet compelling!
She showcases custom portraits - one of her impressive hand-drawn art services - with the help of the Image With Text section. You can easily explore her work to find the perfect piece of custom-drawn portraits that reflects your unique style. You can gift a one-of-a-kind portrait to someone special you love.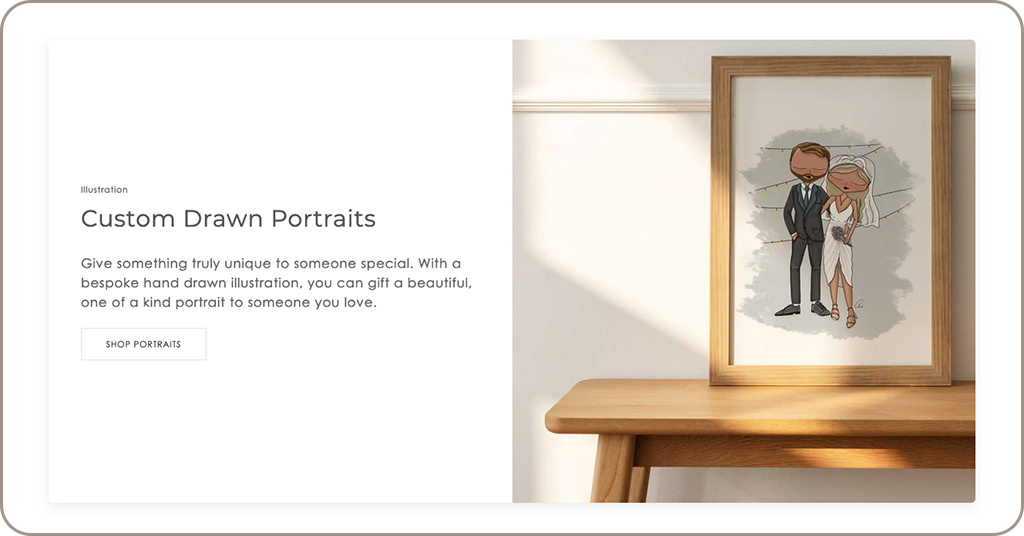 Empowered Collection and Mid Century Landscapes are another vibrant showcase of her statement-making wall art. These hand-drawn pieces of art are sure to add a subtle accent to your home.
Another striking art offered by Andi is one-of-a-kind greeting cards. To highlight this section, she also harnessed Image With Text, a free block that comes with Easy Content Builder.
Empowering Merchants with Easy Content Builder
Andi's approach to building her outlet through bananallama.co.uk using Easy Content Builder shows that you can easily create a Shopify store without needing custom coding. Easy Content Builder provides a solid foundation to craft compelling and functional sites, from flexible pre-built sections and blocks to animation effects.
For any new merchants who want a quick start on Shopify, Easy Content Builder's Free version provides a nice set of content blocks that let you build functional pages using just them.
Find more work from Andi
Andi's exceptional work truly stands out. We believe she will create more amazing art pieces with a strong passion for creativity and illustration. We look forward to following her journey and celebrating her accomplishments in the coming time.