When Shopify introduced the big Online Store 2.0 in June 2021 - an overhaul of how themes are built at Shopify, it allowed you to use Shopify 'sections everywhere'. This is a big deal. Before the introduction of this feature, you might cope with a few known limitations when customizing your Shopify store:
You were limited to dynamic sections on the homepage only.
The number of sections available to you depends on your theme.
You need advanced technical skills or have to hire a professional developer to help add or customize a Shopify page.
When you had to uninstall a theme, the 'ghost' theme's code that you manually edited would not be automatically removed.
In this article, we will explore what the Shopify section is, why 'section everywhere' opens up massive opportunities to enhance the functionalities of your store, and strategies for implementing successful sections to tailor your Shopify theme without using any code.
What is the Shopify section?
Sections are customizable components of a Shopify theme. With the launch of Online Store 2.0, Shopify uses sections as a primary way to create your page layout. Every page in Shopify is now rendered using JSON template file(s), which stores a list of sections and their associated setting data.
Sections can also contain app blocks that serve specific functionalities, such as Featured Products, Image With Text, Icons With Text, Before & After Slider, Image Gallery, Accordion, Tabs, etc.
You can add, remove, and reposition these sections or app blocks within a section through the Shopify theme editor.
Benefits of using Shopify sections
Easy setup & customization
Sections on ​every ​page give you the ability to easily add, customize, or move content on your pages by dragging and dropping elements - all within your Shopify theme editor - without custom modifications to the theme files.
Naturally, this level of customization would be ideal for adding dynamic sections to enhance the content of individual pages such as homepage, individual products or groups of products, individual collections or groups of collections, landing pages, blog post pages, etc.
You definitely don't need to have any advanced technical skills or hire a professional developer to customize your homepage or create a landing page using Shopify sections.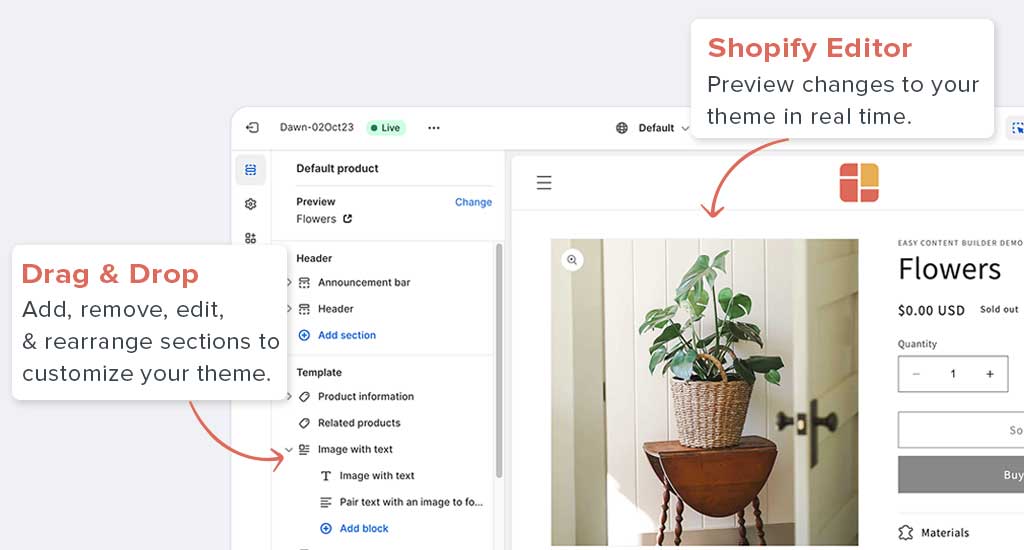 Level up your Shopify theme
Whether you start with a free Shopify theme like Dawn (a few reasons to consider Dawn) or any premium themes, sections give you endless personalization options in every aspect of your store, for example:
Customizing the appearance of your Shopify homepage, about us, blog post pages, etc.
Adding sections to turn your product pages into long-form product landing pages.
Creating a new custom template based on a predefined page template that exists in your theme.
Crafting unique landing pages for your ad campaigns.
Full control to choose which content blocks appear when and where, and in what column-layout type.
Keeping your brand message and look and feel consistent at all times on every page.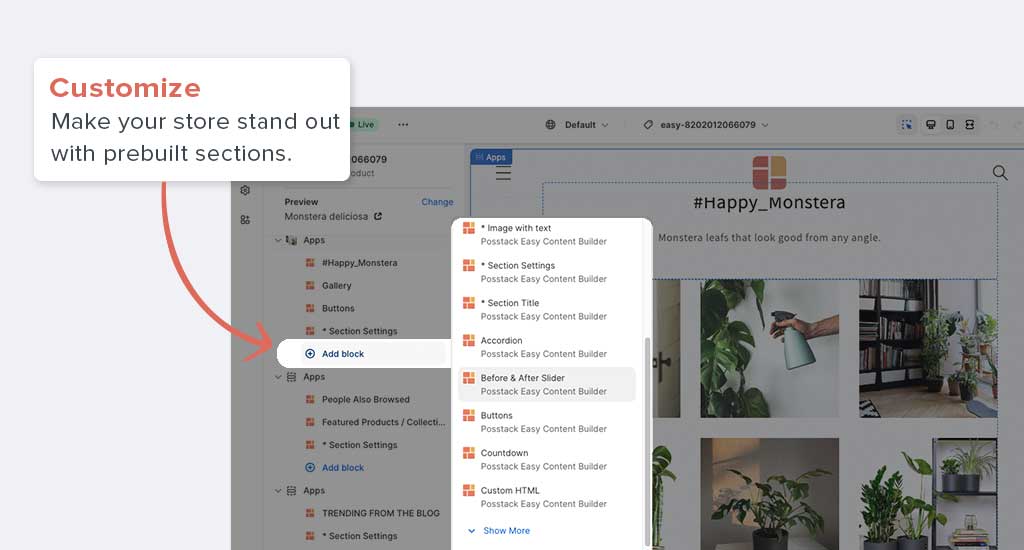 With the help of no-code theme sections from free tools like Posstack Easy Content Builder, you can build customizable pages and edit the appearance of your store to your liking.
Endless content possibilities
If you're building a Shopify theme from scratch or customizing a theme for a client, there's a high chance that you need to build various types of sections to adapt to various contexts.
With Shopify 'section everywhere', you can add up to 25 sections per each template, and a variety of blocks to each section. This unlocks a range of options for you to create custom pages that help boost sales and enhance your customer experience.
At a high level, using the right app or theme, you can place a wide variety of types of content or functionalities in Shopify sections:
Product/Collection carousels (Featured Products, Best Seller Products, etc. )
Articles
Text and links
Media (video, image)
Hero banners
Countdown
Accordion
Logo slider
Before & After Slider
Tabs
Testimonial slider
Video background
Background mask/layer
Animation on Scrolling
Parallax effects, etc.
Quick to market
Timing is crucial for any Shopify store, especially in seasonal sale events. It's a no-brainer to take advantage of Shopify sections to craft multiple unique landing pages or product landing pages. Then, run the A/B testing to pick exceptional options for your ad campaigns.
Creating a Shopify store from scratch is a tiring and slow job, so it's a good upgrade to add prebuilt sections or layouts to tweak part of your pages or create an entirely new page yourself. It gives you the ability to make content and layout changes without having to wait for a web developer and allows for faster reactions to market demands.
Minimal startup costs
Do you think it's easy for a small startup to pay up to $12,000 to $150,000 for creating a website from the ground up? Definitely, not at all.
With Shopify sections, you can easily design your store for FREE without needing to hire a professional coder! If you're planning to build a Shopify store on a budget, check out Easy Content Builder - it has a free plan that lets you create exceptionally quick and easy custom page setup. And you can stay on this version as long as you want.
Content portability
With the introduction of Shopify Online Store 2.0, content will no longer be stored in themes. That means you don't have to duplicate your themes to make changes to your store, and will seamlessly switch between themes without transferring your content manually.
For each individual section, you can re-use the same section on multiple pages and adjust it to fit with each page context without impacting the display of other page templates.
How to customize your Shopify theme with pre-built sections
It is worth noting that sections that come with Shopify free themes don't offer versatile functionality by default, and you'll still be limited by the theme you choose. To take full advantage of the "Sections Everywhere", one valuable option is using the free section library that free tools like Easy Content Builder provide.
Easy Content Builder is great for: those who want a drag and drop lightweight page builder that lets you add sections and customization to your existing Shopify theme - without writing a single line of code.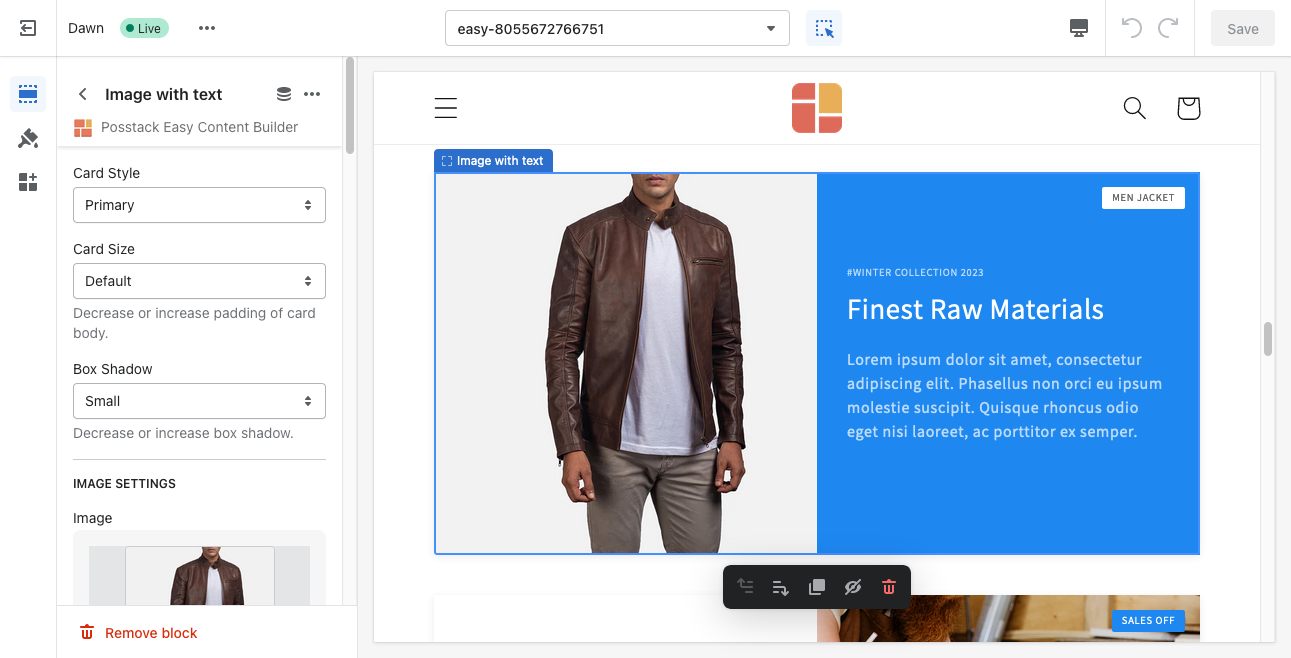 With carefully crafted (no-code) theme sections and templates, Easy Content Builder lets you customize and personalize your homepage, long-form product pages, landing pages, etc, with ease. The pre-built sections include a wide range of content types and functionalities for you to mix and match: Featured Products/Collections, Accordion, Logo slider, Before & After Slider, Tabs, Countdown, Testimonial slider, Video background, Background mask / layer, Animation on Scrolling, Parallax effects, using metaobjects, metafields as a dynamic source, etc.
You don't need any technical expertise to launch a functional Shopify store with Easy Content Builder.
Download Easy Content Builder on the Shopify store
If you are just getting started on Shopify, Easy Content Builder's Free version provides a nice set of content blocks that let you build functional pages using just them.
Useful links: Multiple column grid layouts for Shopify sections