Nov 30, 2023 Update: If you want to display an Artist profile section on a product, article, or any page, we recommend you use the ECB Author metaobject. This way, you can create a single artist profile and reuse it on any page. Any edits you make to this artist profile will automatically be reflected on any page where it is used.
If you're about to build a painting business - whether you are an artist or a curator - here are 5 outstanding Shopify art store examples to give you some inspiration and handy tips to apply to your store.
While this article mainly walks through the product detail pages, you can also look at other standard pages on these Shopify stores to learn best practices in their design, UX, navigational flow, on-site marketing, copywriting, and photography. This will definitely save you time and cost.
Let's get started.
Mii Creative
Mii Creative lets you upload and convert your picture into a Paint by Number kit. Then, you paint the picture yourselves (using the Mii Creative kit) even without knowledge about painting. Each craft kit contains the numbered canvas, the pain set, 3 brushes, a chart, a picture of the finished painting, and an instruction paper.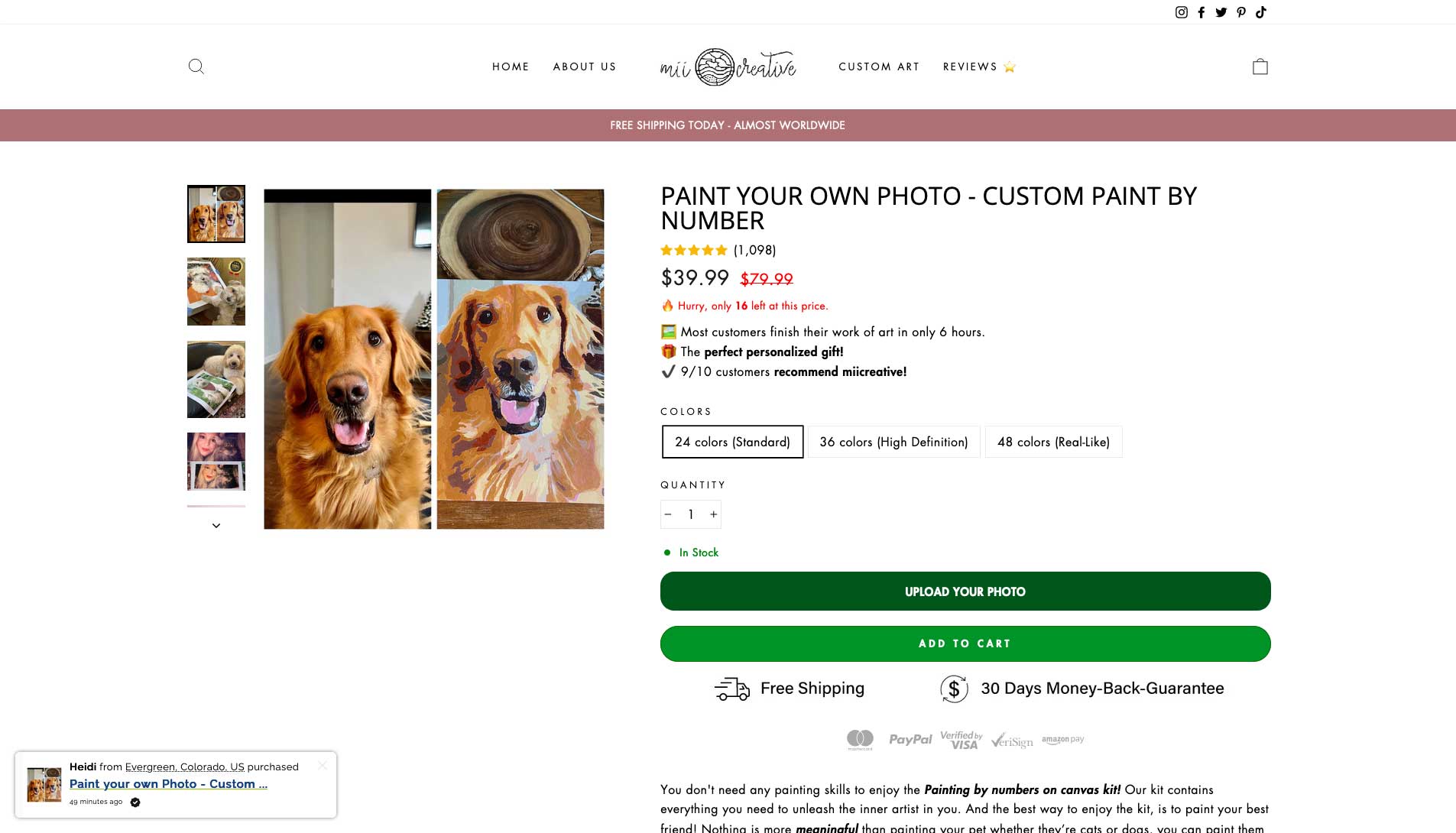 Product detail page of Mii Creative
Takeaways:
Mii Creative's product page pulls more weight than simply providing a description, photo, price, and Buy button.
Anyone new to Mii Creative can quickly find helpful information like:
How it works
A detailed comparison showing why Mii Creative is the best option
A gif image that demonstrates the easy process of creating a painting.
A Before and After slider lets customers compare their original uploaded photos vs. the final painting.
Confidence booster: Free Shipping worldwide, 30-day money-back guarantee, 100% Satisfaction Guarantee. Why is this so important? Free shipping and transparency in return policy are key to giving customers the confidence to purchase.
Social proof: Positive customer feedback from the Facebook channel, 1,098+ reviews with their work of art, Featured Testimonials. All these user-generated reviews showcase that real people have actually purchased and enjoyed the products. This builds trust and significantly influences the buying decisions of those new customers coming in.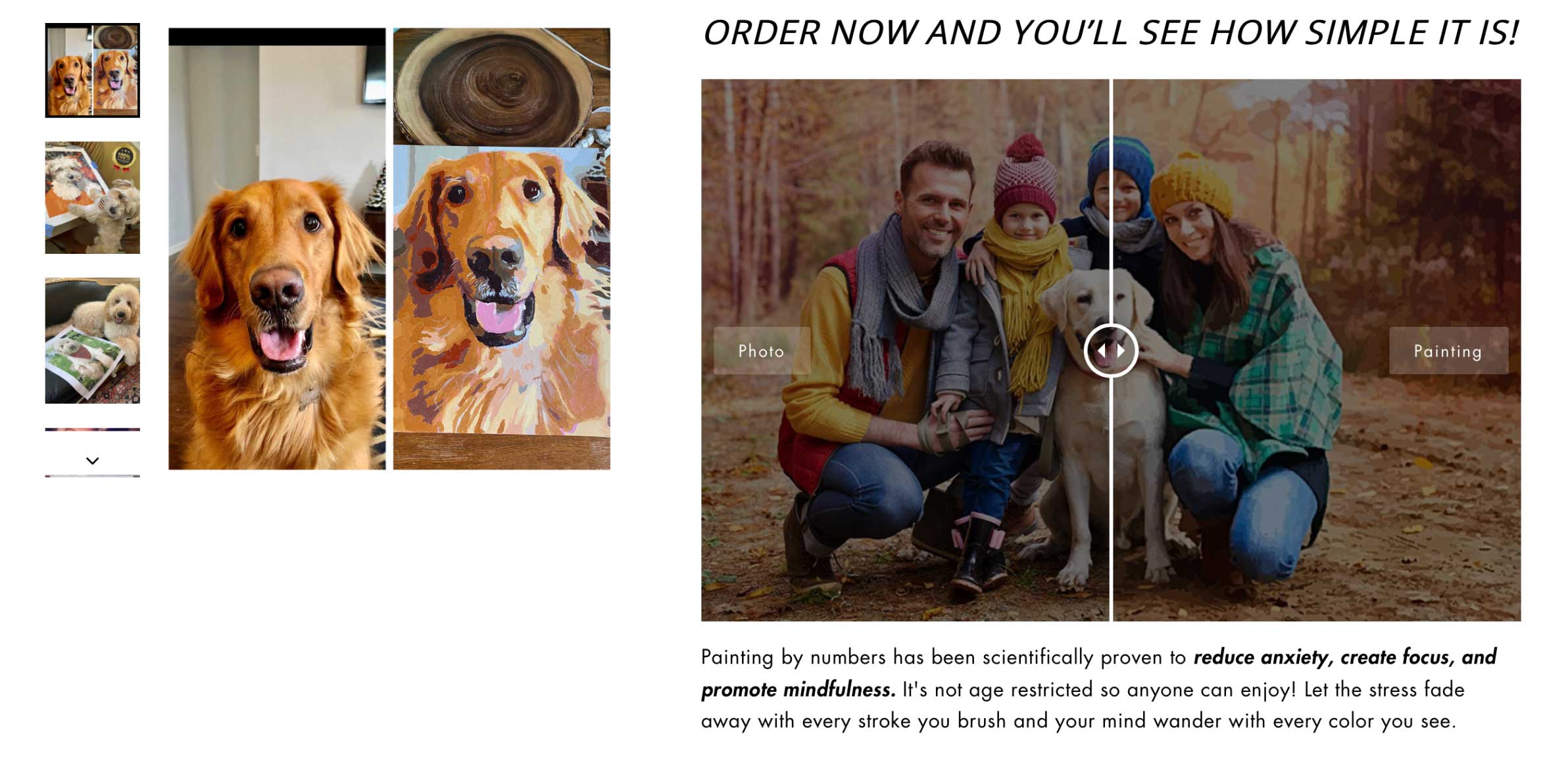 Before & After slider - Product detail page of Mii Creative
Quick tips:
You can easily add Before & After slider, Confident booster, or video sections to the product page using Easy Content Builder and configure them through your Shopify theme editor without coding.
Lindsay Letters
Lindsay Letters is an ecommerce store by the artist Lindsay Sherbondy where you can find inspired abstract paintings, farmhouse-style canvas signs, chic wall calendars, and lots of pretty calligraphy artwork.

Product detail page of Lindsay Letters
Takeaways:
Lindsay Letters is fully optimized for mobile. Since more and more people are using their phones to shop, it's important to design mobile first and make all sections as concise as possible. If you're considering a less is more approach, Lindsay Letters will give you a good reference.
The product page is just simple that helps increase the efficiency of the customer's navigational flow.
They have a short, sweet product description.
The product photos are amazing and well-presented on mobile.
A simple color palette gives customers the flexibility to choose a framing type.
A cool size comparison 30-second video visually explains how canvas differs in size.
Confident booster: Free Shipping highlighted in an art style.
Quick tips:
You can use Icons with text, Section title, or video sections (available for free under the Easy Content Builder) to add photos, icons, videos, or other rich content below the Add to Cart button.
IKONICK
IKONICK is a Los Angeles based online art gallery supplying thousands of motivational canvas art pieces embodying pop culture. The brand was designed to offer modern art at affordable prices.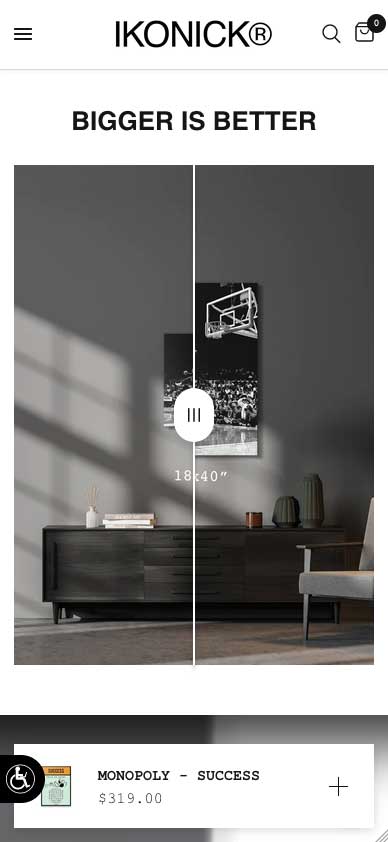 Product detail page of IKONICK
Takeaways:
IKONICK is another example of an Art store that opts for a short and concise product page. Sometimes, giving too much information in a small space can overwhelm the customers. Iknoic has done a good job of organizing content concisely.
IKONICK's simple storytelling through amazing product photos helps increase the conversion's rate. This allows a customer to relate the artwork to his or her own dream space.
They've done a good job of illustrating how a bigger artwork size fits better with your space using the Before & After slider.
They use a background video that captures the process of making a hand-made artwork and the finished work in a real-life space context. The use of video is a great way to keep customers engaged longer.
Recommended products below the Add to Cart button and the main product gallery encourage customers to make more purchases while shopping from IKONICK's store.
Quick tips:
You can add Before and After slider and background video sections using Easy Content Builder to keep your customers engaged longer on your Shopify online stores.
Steven Brown Art
Steven Brown Art, the home of iconic Scottish artist Steven Brown, who is best known for his colorful highland cow paintings. His paintings portray animals in a playful and imaginative way. His distinctive designs can also be found on a variety of products, such as mugs, cushions, canvases, suitcases, etc.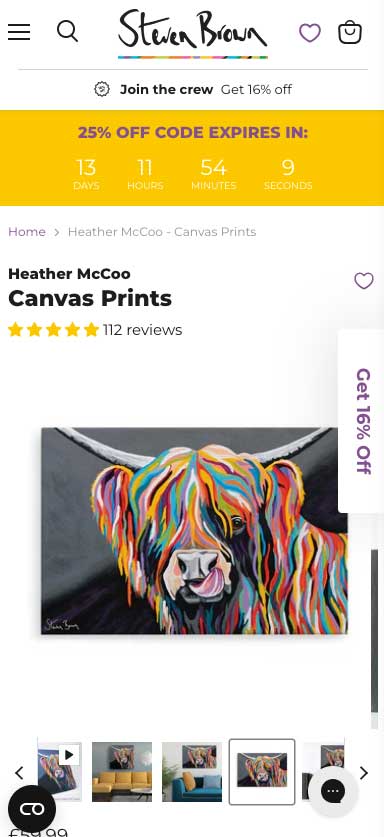 Product detail page of Steven Brown Art
Takeaways:
Steven Brown Art places a countdown timer below the header and above all the content sections, which is a great way to incentivize customers to take action on the discount offer. This is a powerful marketing tool for featuring limited-time offers on Steven Brown Art.
The product pages are well-optimized for mobile. Full-width size selector and CTA buttons allow for easy tapping on mobile.
Content flow: Steven Brown Art lets customers easily scan the content when scrolling down the page. All product descriptions, delivery, or payment method information are kept in a minimal stack, which helps save space for other important items - reviews and recommended products to pop up.
Trust: Steven Brown Art features all reviews in detail with customer's photos and testimonials - a great way to build trust with new users.
Recommended products: "Frequently bought together", "You may also like" sections are implemented on the product pages. This type of product recommendation is known to impact conversion rates significantly.
Confidence booster: Steven Brown Art highlights even more incentives to motivate users to purchase, such as the Trust Pilot rating, trending Buy Now Pay Later using Klarna or Clearpay, 16% offer on newsletter sign-up, etc.
Quick tips:
You can add Countdown timer and Featured Products sections that Easy Content Builder provides to highlight your promo offers and product recommendations on your Shopify online stores.
Art by Maudsch
Art by Maudsch is an Amsterdam-based art collective that sells handmade paintings. They create museum-quality oil and acrylic paintings in many different styles, themes, colors, and sizes.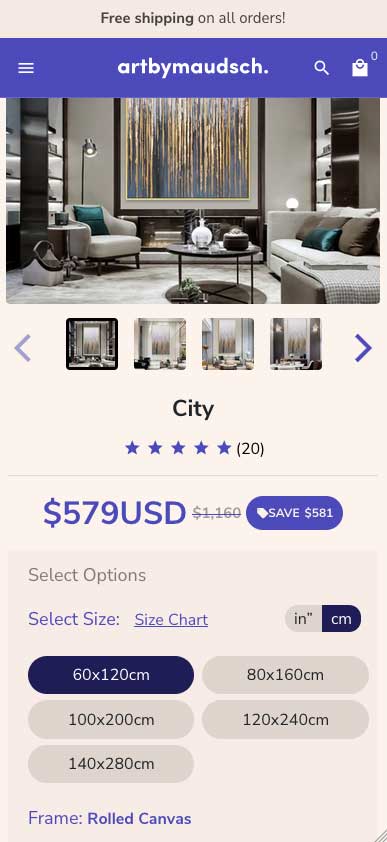 Product detail page of Art by Maudsch
Takeaways:
Variant selectors: Artbymaudsch surfaces of all sizes and frame swatches side-by-side. The size dimensions in/cm guide shoppers to select the size clearly and fast.
Art by Maudsch has done a good job organizing product descriptions, shipping and return policy, faqs, and confident booster information - using a simple 2-column layout. This saves the space for a small mobile screen while not overwhelming the customers.
They employed the use of reviews really well. A customer can scan through all the reviews, ask a question, or write a review quickly and easily in one place.
Full-width Add to Cart, Write a Review, and Ask a Question buttons are a helpful solution on a tiny mobile screen. It reminds that shoppers can purchase directly from their mobile - an effective way to convert more sales.
Quick tips:
You can easily create a 2-column layout on any Shopify page using Easy Content Builder. Check out this video tutorial for a step-by-step setup guide.
Conclusion
We hope some of the best store examples above give you ideas on how to quickly build an art store on Shopify with concise and effective product pages. Please keep in mind that more and more people are purchasing on mobiles, mobile-first approach when creating your product pages is key to increasing conversion.
In addition, it's a no-brainer to build your art stores on Shopify using a lightweight page builder like Easy Content Builder. You can add a suite of premade sections and templates directly to your page - a faster way to tailor your theme without coding.