Important Update: the Free version of Easy Content Builder is now available! Learn what the Free plan offers here.
We are thrilled to introduce our upcoming Shopify app - Easy Content Blocks - that lets you combine pre-designed blocks to inject inline content to a page within just a few minutes, without having to interact with Liquid templates or code. Add, configure, and preview changes in real time. It's that simple!
Content Blocks are flexible. You sort through the relevant blocks - featured product carousel, tabs, testimonials, or the other pre-designed blocks provided by Easy Content Blocks, then pick and customize each one to make it fit your needs. 
With Easy Content Blocks, you get the flexibility of choosing and mixing different pre-designed content blocks - a new fast-pace process of creating your page.  
Shopify Online Store 2.0 prerequisite
Before getting started, please bear in mind that the Easy Content Blocks app is only available for Online Store 2.0. We took advantage of Theme App Extension, a new feature release of Shopify Online Store 2.0 that allows you to extend apps into the storefront via app blocks. If you missed it, be sure to check the announcement from Shopify United 2021. 
How it works
Easy Content Builder provides you blocks that allow you to insert to any page right inside the Shopify theme editor. To illustrate this, we take a product page as an example, you can easily apply the same workflow to insert blocks to other pages. 
When you go to Products on the left-hand dashboard menu, open a specific product, you will see More Action > Create Template menu which will direct you to the Theme editor.

Along the right side of your editor, you will find Apps > Easy Content Builder. Here you sort through available pre-designed content blocks and pick the one that you need. Once added, you can tweak the content, customize the style and reorder the block to any position in the page.   
This option retains the layout, style, and all functions specific to your theme's product page template. It also retains the original product page URL. 
Perfect for Merchants and Developers Alike
We built each block with simplicity and independence in mind, making it easy to fit the different blocks together for both Merchants and Developers alike. 
For merchants, sometimes you might need to fill a page with your own eye-catching content blocks, but you don't know how to modify the theme code to extend the functionality. With Easy Content Blocks, you can add dynamic content crazy-fast without having to manually edit your theme code. All you need is to pick a right block, insert it and tweak the content that best fits your needs. Then preview the changes to the page in real time. 
For developers who build projects for clients, Easy Content Builder allows you to complete more projects in much less time. The app makes it easy to duplicate, delete or customize a block however you need to. For significant style adjustments, you might want to tweak the Custom CSS file directly in the theme editor. You're also able to rapidly migrate all blocks created by Easy Content Builder to reuse them in a new theme. 
Crazy-fast Workflow
For projects of any size, a proper development workflow saves you time and gives you more customization. Easy Content Builder enables you to do this in an easy-to-configure way.
 
You should definitely get up to speed with the following process: 
Create a template and add content blocks 
Configure & customize each block
Reorder the blocks 
Save & preview changes in real time
Migrate to reuse saved blocks in a new theme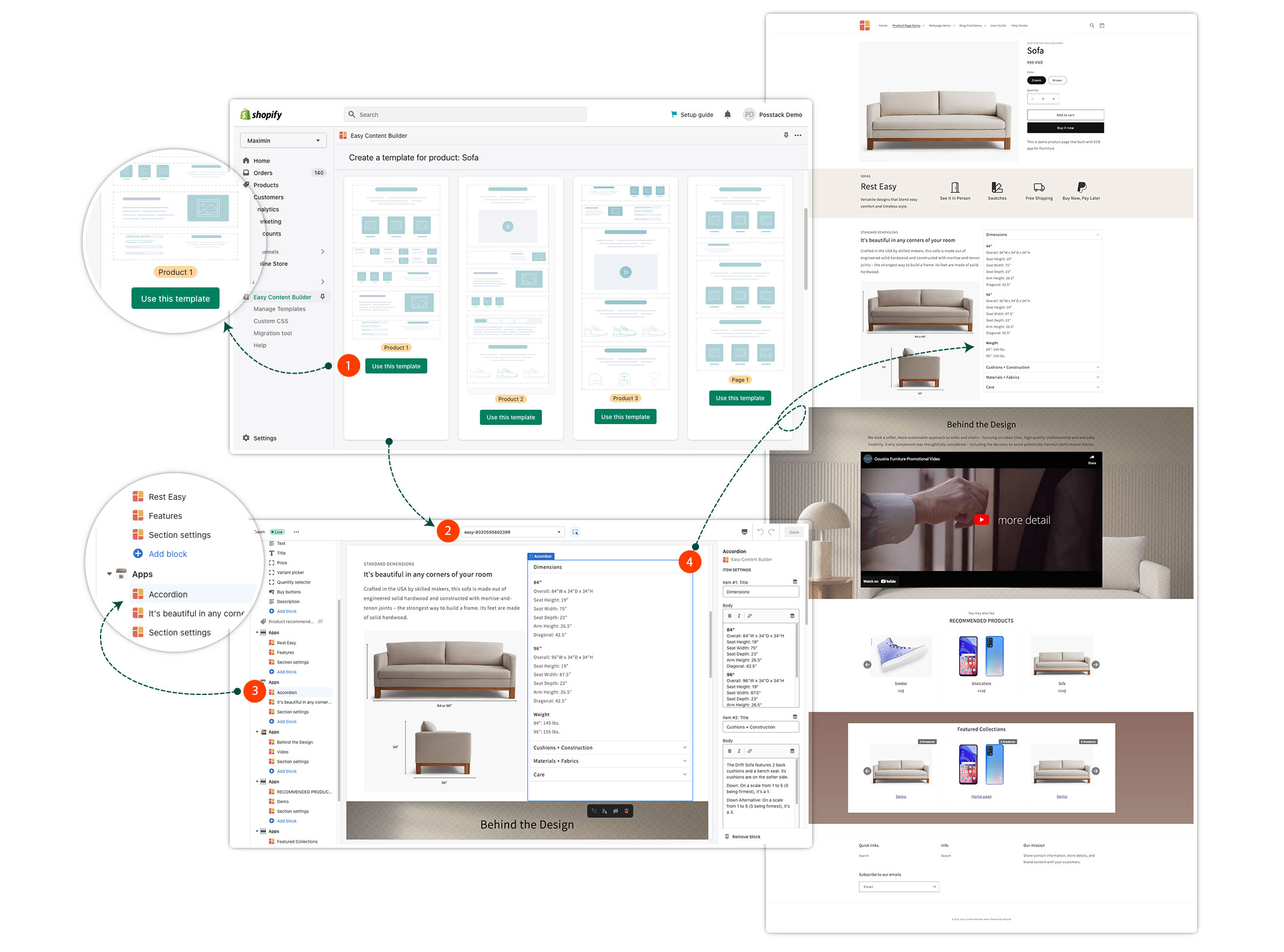 A wide list of blocks for you to mix and combine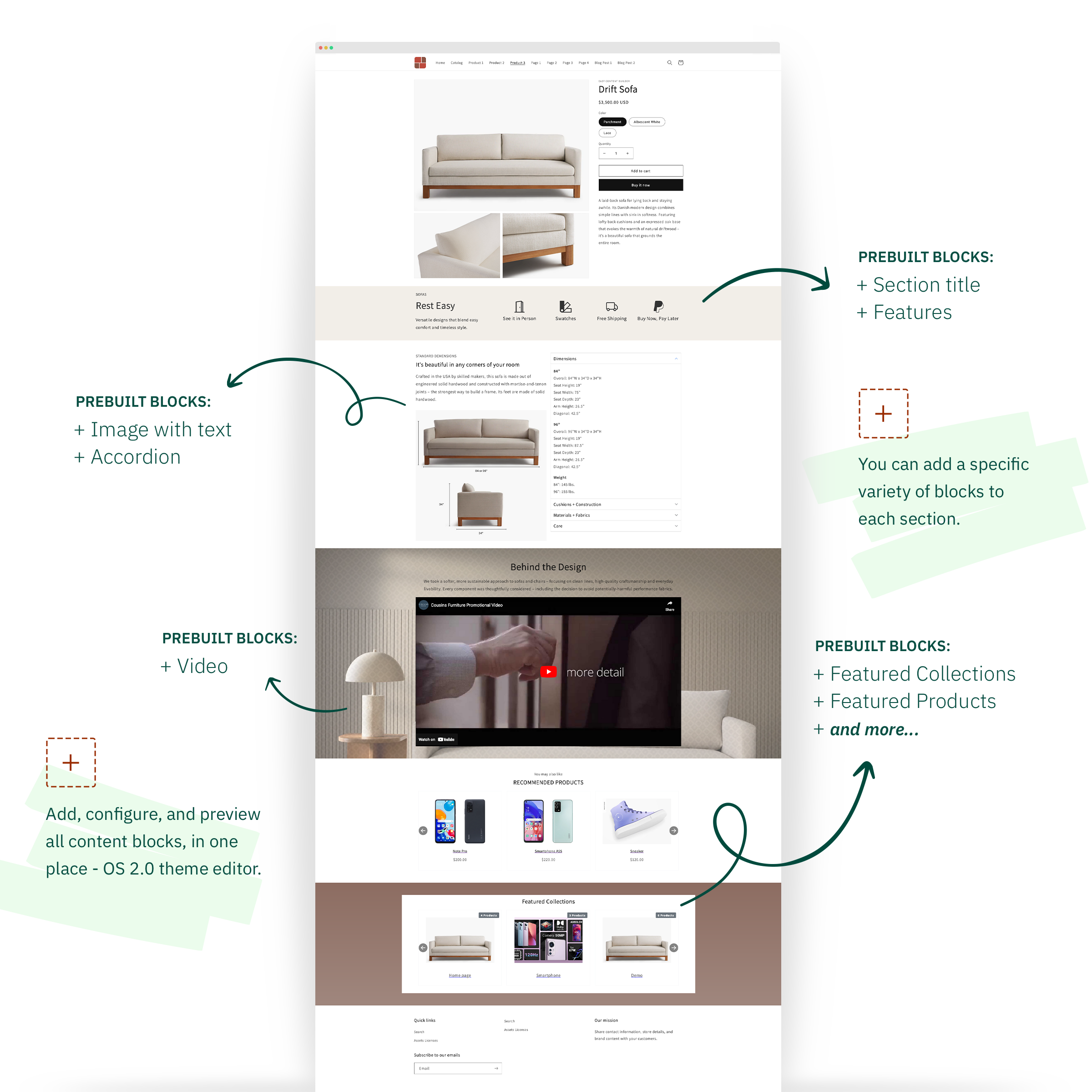 Easy Content Builder offers a wide variety of content blocks that you can use to build and customize your Shopify pages. Here are blocks available in the app currently: 
Section Settings
Section Title
(New) Before & After Slider
Divider
Accordion
Article
Buttons
Custom HTML
Featured Collections
Featured Products
Features
Image Grid
Image with Text
Tabs
Video
(Upcoming) Metafields
We will keep adding new blocks in the coming time, so stay tuned. 
Sound good? 
Install Free on Shopify    View Live Demo
You'll find an easy-to-configure way to build a Shopify page with Easy Content Builder!
Useful links: 
This brief video will walk you through the steps to add new sections to your Shopify product page using Easy Content Builder.
Besides, take a quick look at the Easy Content Builder documentation here to learn about the steps to create templates for a product/page/blog post page. 
Have a question? Just drop us a message at support (at) posstack.com.